Cheesy Taco Pasta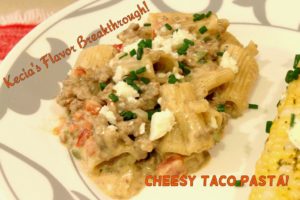 Good morning friends!  I have such a special treat for y'all today!  We have a guest post from one of my first blogging friends!  Kecia and I started blogging right around the same time and became fast friends!  I LOVE her quick, family friendly, REAL FOOD recipes and I was SO thrilled when she agreed to do a guest post!  This recipe is AMAZING!  Here is Kecia:
~~~
Hi! I am Kecia from Kecia's Flavor Breakthrough! I feature my own recipes, which I try to create using minimally processed ingredients! I have been blogging for almost a year now! I really love it; you could say it has become my passion! Cooking is something I just really enjoy. So it is no surprise that I was so excited to have Brandi AKA Aunt Bee ask me to do a guest blog post! Brandi has become one of my dearest blogging buddies so it means a great deal to me to be able to share this recipe with her followers!  I have been waiting for just the perfect recipe and I knew this would be something she would just love!
 I had pulled out ground beef from the freezer a couple of days ago, but really didn't feel like cooking dinner tonight. I was tired and still full from lunch. So, I took the meat and fried it up with onions and garlic and put it in the fridge, not quite knowing what I wanted to do with it. So… this is what I came up with. I will write it up like I am starting with fresh ground beef, not already cooked.  I guess it was good… a two helping dinner for my Honey!
1 jalapeno, seeded and diced
1 package of your favorite bite sized pasta, cooked al dente and drained
In a large skillet, brown ground beef. Drain and add onion and jalapenos. Cook until onion becomes slightly translucent. Add garlic, cumin and chili powder, salt and pepper.  Cook an additional 2 minutes. Stir in tomatoes and heat through, now add cream, heat through. Whisk in cheese and stir until melted and smooth. Now stir in pasta. Sprinkle with a little cilantro and some more shredded cheese. Serve hot. 
Isn't she great?  You can follow Kecia yourself: